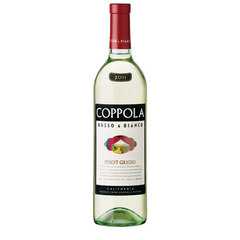 Properties
| | |
| --- | --- |
| Size | 750 ml |
| Alcohol | 13 % |
| Varietal | 79% Pinot Grigio, 21% Chardonnay |
| Vintage | 2013 |
| Region | California |
Francis Ford Coppola Rosso & Bianco
Francis Ford Coppola Rosso & Bianco Pinot Grigio
Pale yellow in color with aromas of peaches, pink grapefruit and pineapple. Green apples, lemon, passion fruit and minerals. Light-bodied with a crisp, refreshing taste and a short, clean finish.
79% Pinot Grigio, 21% Chardonnay
The grapes for this wine come from two regions: the Pinnacles Bench in Monterey and Clarksburg, just outside of Lodi. Pinnacles Bench fruit is influenced by cool coastal conditions while our Clarksburg grapes develop more ripeness because of the fertile soils and warmer climate. When blended together, we create a wine with full, ripe flavors and balanced acidity. Named for the grey color that the grapes turn at full ripeness, Pinot Grigio requires special attention so that the grapes are picked at the exact moment they become fully ripe. Letting them go just a few extra days risks darker fruit that colors the wine. Additionally, we harvest our Pinot Grigio late in the evening to bring it into the winery in the early morning so the grapes can be pressed and fermented in cool temperatures.
Look for similar items